Most of the carp have never been caught, providing a real challenge for the keen angler.
The fishing lakes each have shallow marginal shelves with depths of 8ft-12ft of water out from the bank to a 30 yard cast. Species include Roach, Perch, Eels, Pike, Tench, Bream and in the 1st lake (closest to the Wardens Office and Toilets on left hand side of the below map) is a prolific head of Common and Mirror Carp in the 10-25lb bracket, with some 35lb+ specimens recently reported.
There are toilet and shower facilities at the lakes. We also have planning for a visitor centre on site where in the future you will be able to have, drinks, breakfast or meals.
Fishing Lakes
Click on a lake to find out more information.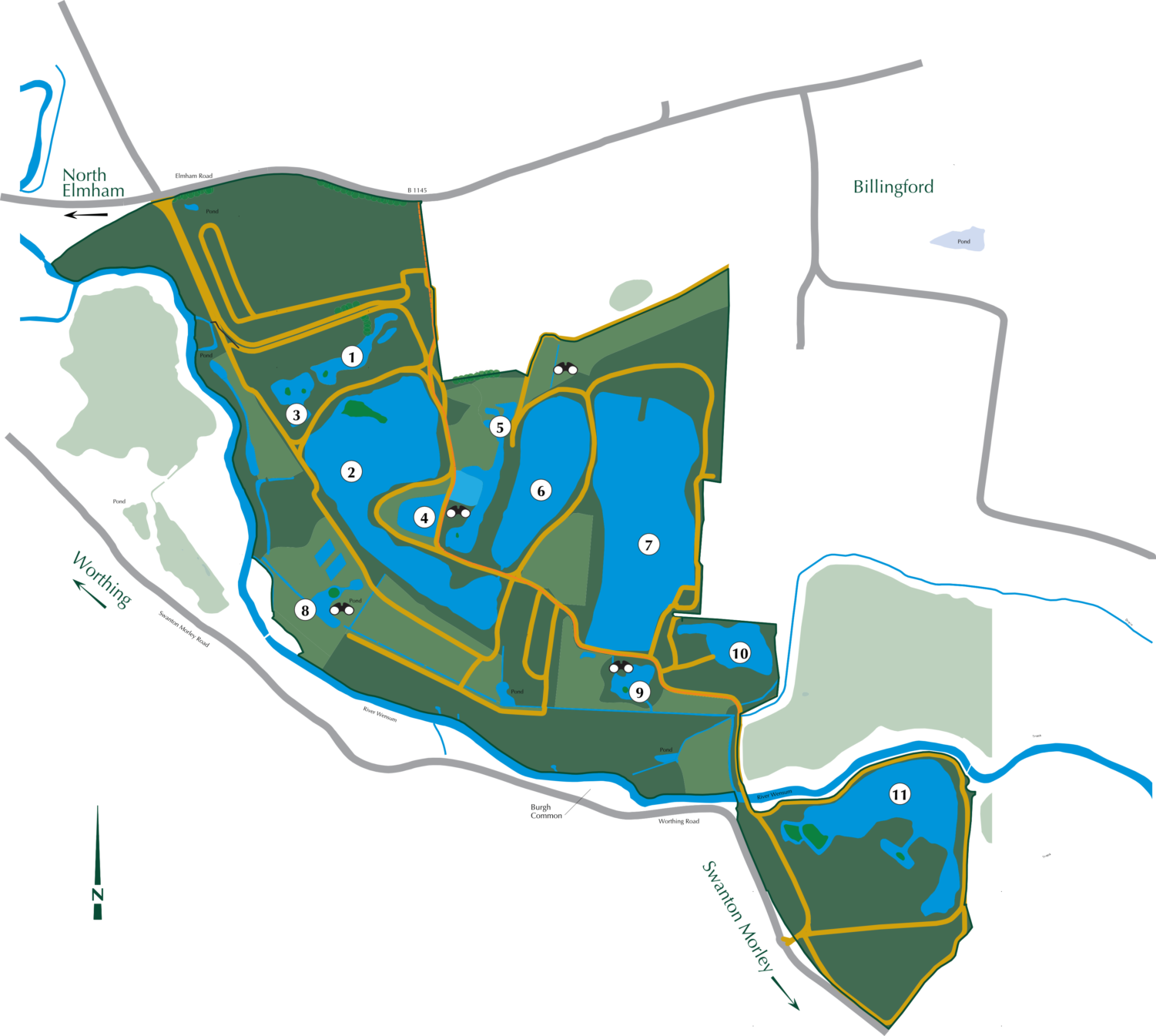 Lake 2
Billingford Lake
This mature lake of approximately 7.5 acres has a great head of large carp ranging up to 35lbs+. There are 17 swims on the lake all full with features including an island, weed beds, gravel bars, Lillie patches, reed lined bays and much more. It is one of the easier carp lakes on the complex where you are never to far from a bite, however it can be hard on its days. This lake is often overlooked for its coarse fish, with some specimen Roach and Rudd to be had if you can find them. There are also many pike that go over the 20lb barrier, making it the ideal lake for the all-round specimen angler.
Lake 1
Kingfisher Pond - future training pond.
This is a small pond that has a large stock of big Roach and Rudd, making it almost guaranteed for a bite. As well as this both mirror carp and common carp can be found in here, along with the rarer crucian carp. The pond has no weed and has a depth of around 3-5ft all over. The reed lined pond is the perfect place to come and learn how to fish, giving you the chance to catch plenty of fish and get a great angling experience, whether you haven't been fishing in a few years and would like some help to brush up on your skills, or you have never fished before this is a great place to start.
Lake 3
Teal Pond
Currently a stock pond Big head of crucians yet to decide what to do with this lake, whether leave it as a stock pond or make it a "beginners" lake and take out the surrounding trees that make it hard for people to cast.
Lake 4
Grebe Pond - small pond
There is a road surrounding it, so maybe not the best for a lake for children as there could be cars going past, also not lots of room for the swims between the lake and the road
Lake 5
Osprey Pond - small pond behind wooden lodge 5-6ft deep with large weed beds, Roach and Rudd in there, unsure on other species, maybe an ornamental lake, golden and blue Orfe, golden Tench, small koi.
Lake 6
Basil Todd Lake
Previously a fly fishing lake, future match lake. This lovely 6 acre lake will make the perfect match lake, with plans of a good stocking program going in this winter, mainly with silvers, bream and a big head of F1 carp the lake will be great for getting big weights of fish in a day on the lake. The lake has fairly shallow margins heading to a steep shelf dropping down to 8ft with depths of 12ft out in the middle. There is a current small stock of large Rudd well over a lb in weight, alongside a few big Tench, however within the next year this lake will be held out for matches and day tickets for coarse anglers.
Lake 7
The Great Lake, the big lake.
This is the most popular lake on the complex with the complex's largest residents in with carp to mid-30s and possibly bigger, the stock of fish is around the 250-300 mark depending on how many
fish have come through the ranks, hatching in the lakes. The average size of the fish on here makes the lake very popular with most of the carp coming out around the 20lbs, you know that the fish you catch will be a nice one. There is a nice mix of strains of carp in this lake, from scaly mirrors, to near leather looking ones, big scaled commons and black and white koi there's lots to try and aim for in this lake. The bottom of this lake is fairly weedy, however there are many clear spots in amongst the weed that can be found with a little bit of work with a marker rod. As well as the impressive carp that can be found in this lake there is some monster pike that are lurking in the deeps and are not to be forgotten about, giving you something to try for in the colder months when the carp fishing gets tough.
Lake 8
Heron Pond, small pond
This little pond is alongside the river making it perfect for looking at the wildlife going past, because it is so near to the river it may be liable to flooding this could be an issue if we where to keep it for fishing, potentially a good pond dipping place, with a bird watching hut by the lake.
Lake 9
Bittern Pond small pond/ bittern pool
This lake would be the perfect Tench/crucian carp pond, with depths of 5/6ft in most places and a small amount of weed its great for anglers wanting to float fish/ coarse fish in general. There are high banks currently however there's room to slowly level it out. Mabey 4/5 swims on the lake, most of the swims would be on the road side near the big lake.
Lake 10
John Wilson Lake
This is a stunning little lake at an acre big with all the features you could want snaggy margins, lilies, weed beds and small golden gravel spots, giving you lots of stalking opportunities. The lake is one of the hardest on the complex with only around 25 fish in it and all of them being old wise carp it can be tricky at times. The fish are all dark and old, with the majority of them being scaly mirrors, each fish from there is special. This is also the only lake on the complex that can be booked out for group bookings at £80 a night, with a maximum of 4 anglers on at any one time, it can also be fished as a standard day ticket however if the lake has been booked you can't fish it.
Lake 11
Cygnet Lake/ the sand pit
This 5-acre lake is surrounded with sand, giving it the old name many people know it by, the sandpit. There is a good amount of carp that can be found in the lake with them ranging up to high 20s. As well as this there is a large stock of specimen Tench in the lake with many being caught to just under 10lbs, its not rare for anglers to have 10-15 Tench in a day out of there. Also, there a few big perch that can be found in there around 3-4lbs which are rarely fished for, but are worth targeting. There are 11 swims on this lake.  There are Carp in this lake up to 30lbs. Z
River Wensum
The river is one of the most overlooked parts of the complex, however there is some incredible fishing to be had. Its mainly a shallow fast flowing river however has a few slower deeper holes that can be productive in the colder months. There is a big selection of fish to be found in the river, consisting with Minnows, Roach, Perch, Pike, Chub and Trout. There are some large river roach that can be found in shoals which often can be found under trees in deeper areas, the big chub like to sit in the shallow water when the suns out giving people the opportunity to try and free line for them, however they are very spooky and will quickly find cover if they feel pressured. The perch often hang around cover but will happily come out for a feed in the open to ambush, and the pike will normally sit in the weed waiting for their prey to come past them before attacking. At over a mile long there are plenty of spots to try and fish from and to, with overhangs often playing a big part.
Tickets
Day or 24hr tickets are payable to one of our wardens on the lake side.
Season/Winter tickets can be purchased by downloading the membership form and passing to one of our wardens.
 To fish at Billingford Lakes you will require a valid UK rod licence from the Environment Agency. If you need one, here is the link.
Day Ticket
Runs from 7am - 7pm
24 Hr Ticket
24 hours from the time you arrive
Season Ticket
Runs from the day you join
Winter Ticket
1st Oct - 31st Mar
Fishery Rules
Please be kind enough to observe the following rules:- Please note Day Fishing Tickets are valid from 7am until 7pm.
1. You must have a valid rod license.
2. All anglers must have a purpose-made weigh sling and unhooking mat, and a landing net suitable for specimen fish.
3. NO keep nets. All fish to be returned quickly after weighing and photography.
4. Three rods per person.
5. NO nuts to be used either as hook baits or loose feed.
6. All juniors under 16 must be accompanied by an adult at all times.
7. NO "Beach caster" style fishing and no Spinning rigs are allowed.
8. Bait boats are only allowed on the Lakes 2 and 7.
9. Braid not to be used as a main line.
10. Rods must not be left unattended. All anglers to remain with their rods. For any absence, lines must be withdrawn from the water and bait removed.
PLEASE LEAVE NO LITTER AND KEEP NOISE TO A MINIMUM – RESPECT ALL WILDLIFE
THANK YOU FOR YOUR COOPERATION.
Click here to view our specific rules for Pike Fishing
Tuition
Tuition is available from one of our wardens on site.  This is ideal for someone new to the sport or wanting advice on how to best fish the lakes at Billingford.  Louis would be happy to spend a half day providing tuition and then allowing you to spend the remainder of the day fishing.  £35 a day or £50 including equipment hire.  Please call (01362) 788111 for more details or to book.
Book our match lake
The Basil Todd lake is perfect for the match style angler who would be looking to book the lake or compete in a club match, or general coarse angler who wants to come down for the day or just even a few hours to catch some fish. With a stock of numerous different species, the stock is a mix of mainly Roach, Rudd, Mirror and Common Carp, however there are some large shoals of Bream, Tench, Crucian carp that can provide great sport when found as well as the odd large Perch.
The lake has a ranging depth around with around 4 ft being found close in off the platforms before getting to the slight shelf where it drops to 7-8ft there are some deeper spots out in the middle of the lake with an average of 10-12ft where often the Bream can be found, however don't neglect the margins in the warmer months as fish love to get in close. The lake has 26 "jetty" platforms, 5 of which are double.
All landing nets, unhooking mats and keep nets must be dry prior to being used on the lake, this reduces the chances of disease spreading from other sites.
Match Lake Rules 
All hooks should be barbless with a maximum hook size of 8
2 rods max
Do not leave unattended rods in the water
Unhooking mats must be used to protect the fish
Any particle to be used must be prepared correctly
Fish from the stages/swims provided
No night fishing 7am-7pm
No damaging the platforms intentionally
No fires around the lake
All rubbish must be put in the bins at the top of the site, anyone found littering will be asked to leave
To book the whole lake for matches please call (01362) 788111. The rules of this lake are slightly different to the carp lakes to accommodate the fish that are in there making sure that the health and wellbeing of the fish is the main priority, as well as keeping all the anglers safe.